Given that we all spend a lot of time focusing on what divides us as a country and a culture (and there's ample reason to do so), it's important to know that many times we end up presuming things that aren't really true.  
For example, many folks in this region presume that those who live far outside the city and those who live in Baltimore are dramatically different and would have nothing much in common.  As a regional organization focused on community well-being and social cohesion, the fact that we serve a wide ranging community presents a unique opportunity to test the notion of a significant "physic divide."  That's what VP of Membership Operations Heather Wilson had in the back of her mind when she suggested to 40 Y senior members from Harford County and Baltimore City to plan a group outing to both have some fun and get to know each other.
The bus trip started in Harford County, picking up a group at the Ward Y early in the morning and then proceeded to the city to pick up seniors from both the Weinberg Y in Waverly and the Y in Druid Hill. Their destination, which was quickly and easily agreed upon in advance, was the National Harbor. Their mission may have seemed fairly prosaic on the surface: to visit the Tanger Outlets; enjoy a waterfront lunch; and then spend some time at the MGM Casino before heading back home.
As Heather put it, "I wanted to put the trip together so that seniors could meet new people and get out of their buildings and normal routines. They were all eager to go on a trip somewhere so we decided to combine trips to bridge communities and they chose the National Harbor. Baltimore City seniors have never been to the Ward Y and vice versa so it was a great way for them to meet one another. They found out that they have much more in common than they realized."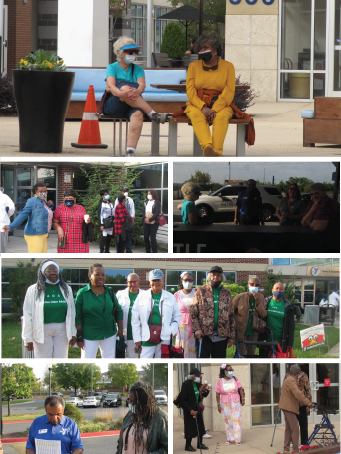 Heather has leadership responsibility for all three Ys represented on this trip, so she's in the unique position to understand the origins of both the commonalities these folks found amongst themselves as well as the misperceptions they may have held prior to the trip. Of course, the world wasn't fixed after a day's excursion, but for 40 Y seniors, friendships were made and horizons were widened; real progress by any measure. Something tells me that future outings may be in the cards.
A big thanks goes out to Heather and to her "partners in planning," Alexis Perkins, Traci Petty and Oscar Worthy, who also had the opportunity to join in on the trip, the fun and the experience.  
All the best,
John
John K. Hoey
President & CEO