Frequently Asked Questions
What is happening? 
Thanks to the generous support of our capital donors and the State of Maryland, the Y has begun the construction of a brand new early childhood center and outdoor pavilion on the campus of the Weinberg Y in Waverly. Upon completion, the Sherman Early Childhood Center will serve 30% more children and families than is currently feasible in the existing building. The outdoor pavilion will be a roughly 3,000 square foot structure with restrooms, accessible to people of all abilities and ages. This will considerably enhance the Y's outdoor experience for youth and families.
Additionally, once the Sherman Early Childhood Center is open, we will be able to expand our fitness center into the existing preschool space that is attached to the Weinberg Y and completely redo all of the locker rooms.
 
When will the construction be completed?
Assuming all goes as planned, we expect the exterior work (the Sherman Early Childhood Center and pavilion) to be complete roughly 10 months from the start, which would be May of 2022. We will update the community should this change. The contractor will then begin the interior work.
 
Why is the playground closed?
The playground was closed in March of 2020 due to Covid. As a safety precaution before reopening, we requested an inspection be done to assure all equipment is up to code and safe for children to use. We expect to have the inspection report very shortly and will reopen the playground as soon as we are given the green light indicating it is safe to reopen.
 
Why are the upper and lower fields fenced off? Isn't that community space? 
The site and campus which surrounds the Weinberg Y is private property which the Y owns. We also recognize and appreciate, however, that the campus is an important community asset enjoyed by many. This is why we take responsibility for upkeep and management of the playground. It's also why we are investing in an outdoor pavilion, a new Early Childhood Center serving area children and families, and why we provide community access to the Cal Ripken, Sr. field.
The upper and lower fields on our campus are temporarily closed during the construction to allow for the crews to do site work. Once the site work is complete, and the upper field is ready for use again, which is anticipated to be roughly by April of 2022, we will open the pavilion and the fence will be removed around the upper field.
With that said, we must remind our neighbors that this space is used for Y camp and other Y programming serving area children and families. It is not intended as an open field or dog park. Please help us keep this space clean and safe!
 
Thank you for your patience as we improve our Y spaces for our members, participants, and the Waverly community.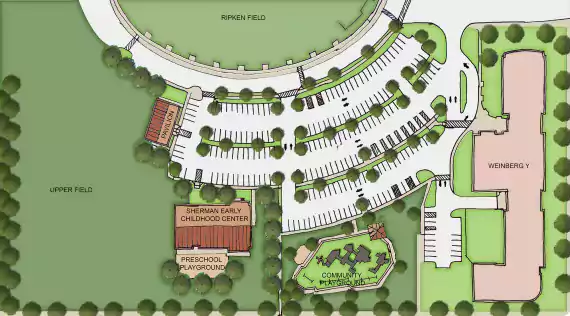 Rendering of the Weinberg Y at Waverly site after the current construction work is completed.