Frequently Asked Questions
What is happening on the campus? 
We are in the final stages of a multi-stage, multi-year renovation and expansion plan intended to improve the membership experience at the Weinberg Y in Waverly, and to provide even greater community benefits. To do so, we have completed the following work:
Renovated the entire first floor and lobby of the Weinberg Y family center, creating more multi-purpose space, expanding and relocating the Stay & Play, and adding a new Family Room and fireplace. 

Replaced the former Y preschool with the new, state-of-the-art Sherman Early Childhood Center, which opened in June of 2022 and serves 30% more young children and families in this blended Head Start and preschool space. A ribbon-cutting for the facility is being planned for this Fall. Look for your invitation!

Added an outdoor pavilion (which includes bathrooms) near the upper fields. The pavilion is for use by Y members and program participants but is also accessible to the public when not in use for Y programs such as camp and youth sports. The bathrooms are open during Y operating hours.
The next stage of the project, the expansion of the fitness floor into the former preschool space, is currently underway.  The new fitness space will provide space for a wide range of fitness opportunities, and contain some new equipment. A restroom and another multi-purpose space will also be added. We expect to complete this phase of renovation by year-end 2022. A layout of the new space is shown below.
The final phase of the project will include an upgrade of the locker room space.  That will start at some point in 2023 and will conclude by year-end 2023.
How will the fitness floor expansion affect me while it's going on?
We've worked out our renovation plan such that there will be minimal disruption to the fitness floor during the renovation and expansion period. This may involve closing a space briefly to move and install equipment, but that should be the extent of the disruption.  We will certainly give members ample notice should they prefer to use any of the Y's nearby family centers (i.e. Druid Hill, Towson, Parkville, Catonsville, etc.). We are committed to make every effort to minimize any inconvenience and to keep you fully informed every step of the way.
Are the playground and upper fields now open?
Yes. Once we completed the new construction of the pavilion and Sherman Early Childhood Center, we were able to safely reopen the community playground and upper fields.​  With that said, we must remind our neighbors that this space is intended for use by Y camp and other Y programming serving area children and families. It is not a dog park or city-owned park space. Please help us keep this space clean, safe and sanitary.
Who is paying for the project?
The multi-year renovation and expansion project, which will cost over $8 million, is being funded through a combination of private philanthropy, foundation support and state funding. With that being said, the campaign is still in effect and more support is needed. Anyone wishing to know more about it and get involved is invited to please contact Matt Freedman, the Y's Chief Development Officer, at mattfreedman@ymaryland.org.
Will this raise our membership fees?
The construction will not impact membership rates. Determinations about membership fees are made annually based on a variety of factors impacting the entire region (i.e. costs, etc.). Capital improvements at any given Y family center have no bearing on the Y in Central Maryland's membership rates.
What if I have more questions?
Please direct any questions or comments to Ashley Funk, the Y's Senior Executive Director leading the Weinberg Y in Waverly and the Y in Druid Hill, at ashleyfunk@ymaryland.org.
Thank you for being a part of the Y community.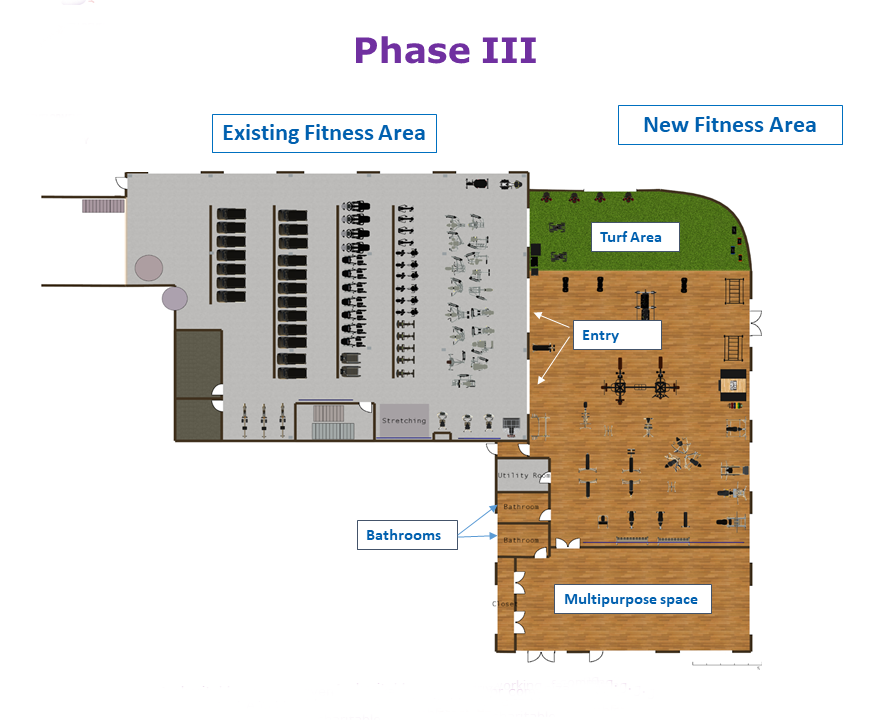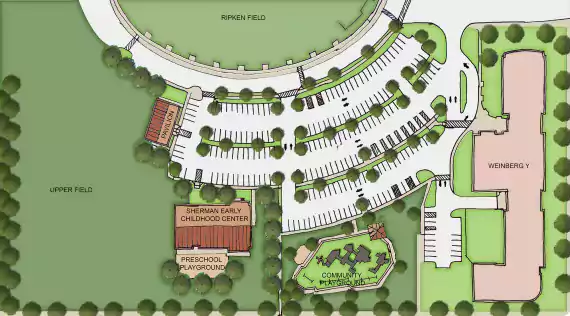 Rendering of the Weinberg Y at Waverly site after the current construction work is completed.